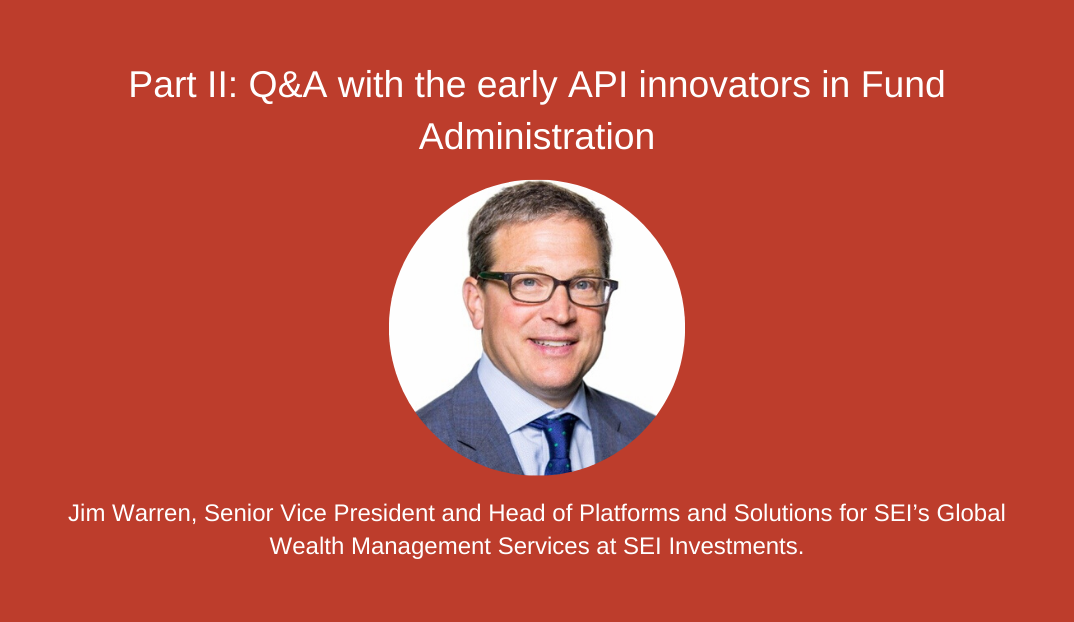 Earlier in Part I, I tried to explain what APIs are and how they can be used in Fund Admin. Part I: What's an API and how can they help in the Funds Industry?
In Part II I ask some of the early innovating firms about their journey to APIs and how they expect APIs to develop in the coming years.
We put the questions to Jim Warren, Senior Vice President and Head of Platforms and Solutions for SEI's Global Wealth Management Services at SEI Investments. LinkedIn
What drove the initiative at SEI to create the set of APIs you have?
Two things: First came a drive to cultivate more interoperability, and then second, we wanted to extend those services to existing and new clients/partners.
We have many development teams across all facets of our company working hard to delivery technology solutions and services to our clients. Most enterprises ultimately run up against the same issue – more than one group of developers working on similar, or even the same,problem, resulting in redundant effort and unneeded expense.
API programs are about creating an API that solves a common problem, whether it be a list of funds, creating a new transaction, or performing a type of calculation. We want our developers to solve a problem once, and then make it available to be reused both internally and externally, reducing our duplicative work, leading to lower expenses and an overall better experience for our clients and partners.
We are already seeing some good gains here where internal systems and applications across SEI are integrating with one another through our API platform, rather than rebuilding a solution from scratch.
With interoperability being the first goal, and progressing nicely, we next wanted to extend those APIs to partners and clients. The goal there is for simplified integration. The stages of integration are repeatable and answer questions like: "What service am I providing?" "What data is needed to be exchanged?" "What are the field types, business definitions, data types?" "And how does SEI securely connect with another system or application." We think that SEI has developed and is developing some valuable APIs that deliver more than just data, so streamlining the process of integration to external third parties is an objective that we work on and think about every day.
What has the feedback and uptake been like from clients so far?
We've had really good responses from clients and partners, especially those that embrace the API mindset. In the past, financial firms, including those in the asset and wealth management markets, have shared a mentality that "yes, we provide integration" as an afterthought. SEI has taken the approach of "This is how we provide and simplify integration" from the start. SEI has an integration blueprint that leverages our SEI Developer Portal to deliver:
- APIs as a product
- The software tools to securely use them
Couple this delivery with an enthusiastic (some say obsessive!) approach to solving clients' pain points through different API products, and we believe that excitement shows through when engaging partners, clients, and prospects about joint API initiatives.
This has produced excellent results. Without getting too specific, we have doubled the number of developers on the platform in the past year and increased the amount of API traffic by 12 times since February 2019, so our metrics on the growth of the program are trending in the right direction.
How do you see APIs evolving in the funds servicing industry in the next 5 years?
This type of transformation is happening in every industry. Video content used to involve renting a tape or DVD from a "brick and mortar" location. Now video content is digitally available across multiple devices thanks to Netflix.
The only way to deposit a check was to go to a branch right? Now deposits can be made through hand held devices and payments issued by new companies like Venmo and Zelle instead of just banks. APIs help build that fabric of connectivity that make apps like this possible.
Within fund servicing right now, there is still a perception that APIs are another way to deliver client data back to clients. We see this mind-set broadening from data delivery to service delivery where services that traditionally needed people, operations, manual processes, and a "brick and mortar" presence transition to a digital services through APIs. Fund accounting, investor services, anti-money laundering, reconciliation, trade capture, are just a few examples of where we see growth opportunities for new APIs within the back, middle and front office.
In case you missed it you can view Part I here: Part I: What's an API and how can they help in the Funds Industry?
If you'd like to know more you can read about Fund Recs Fusion here or email me at alan@fundrecs.com.