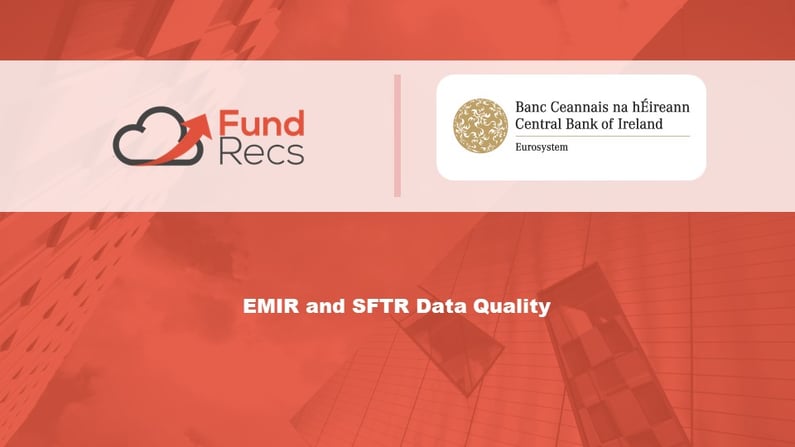 In September 2022 Fund Recs hosted a webinar discussing the importance of data quality. The Central Bank of Ireland's ("CBI") EMIR and SFTR Supervisory Team took the opportunity to outline their expectations on data quality. In their Strategy for 2022 to 2024, the CBI set out how they are transforming their use of data and analytics to drive their effectiveness as an intelligence led organisation.
It is crucial that reported data from the industry is of high quality and this was specifically called out in the Securities Outlook Report for 2022. Data quality is expected to feature prominently again in 2023's report as it is a vital and increasingly important aspect of the CBI supervisory toolkit, and it will continue to be an area of focus.
Here we have summarised the key takeaways from the session.
What the market can expect.
The CBI expects firms to have robust systems and procedures in place to identify data quality issues. Firms can expect increased engagement from the CBI in respect to data quality issues and this engagement will take the form of supervisory action where it has been identified that firms do not have sufficient frameworks in place to meet their reporting obligations and to ensure data is reported in a complete, accurate and timely manner.
More focus than ever before.
There are more eyes on the EMIR and SFTR data sets than at any time before this. Supervisors across the bank are accessing this data and analysis for policy and supervisory purposes. As a result of the increase in exposure to the data sets within the CBI, the greater the chance they will identify issues in firms' reported data.
No more hand holding.
They will be taking a new approach and will no longer be holding firms' hands and walking them through remediation of data quality issues. The board of fund managers will be expected to take ownership of data quality issues and ensure they are remediated.
The CBI team have a new application to monitor data quality issues daily and they will be using this to identify firms where issues are occurring. They will engage with the relevant boards of these firms and require they implement a plan to remediate the issues. Firms will be given time to implement changes and address their issues but if there aren't improvements, they will commence supervisory action against firms.
Key areas of focus.
While it is important to review all reportable fields the following are the reportable areas which will be the focus of the CBI's data quality work.
EMIR/SFTR

Further details

Non-reporting

Breach of EMIR/SFTR

Reconciliation

Pairing and matching

Rejections

Monitored and successfully re-submitted

Late reports

Monitored and improved

Valuations

Daily valuation updates for all O/S reports

Maturity dates

Should be reported, if relevant

Collateralisation

Must be populated for all funds

Variation margin

Variation margin posted / received

Abnormal values

Notional/Principal Amount/Loan Value, value of
contract, margin, quantity, price etc.

EMIR/SFTR

Further details

Client codes

Use of client codes when LEI available

Duplicate reports

Duplicate reporting

Counterparty nature

F = Financial Counterparty for Funds

Corporate sector

Consistent reporting (UCITS or AIF)

Consistent margins

Consistent and accurate reporting of margin
information

LEI of Issuer (SFTR)

Where an LEI is available for a specific issuer it
is reported. Expect improvement over time.
Summary
The CBI's expectations on fund managers are high as it relates to data quality. Their focus is increasing and if they identify data quality issues, they will be asking fund managers the awkward question of why it was the CBI who identified the issue and not the manager themselves.
If you would like to discuss how Fund Recs can help you to proactively oversee your data quality on EMIR and SFTR, please contact us here.