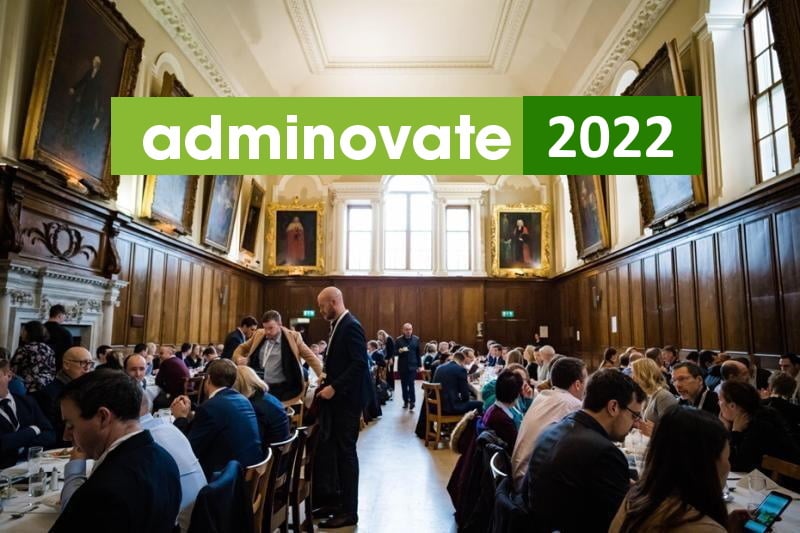 Little did we know at Adminovate in January 2020 how much the world was about the change. It ended up being the last conference many of us have been at.
Thankfully we seem to be turning a corner in managing the pandemic. With vaccination levels in Ireland leading the world, we are well placed to meet back up in person safely.
I'm delighted to share that Adminovate is back on Thursday January 13th 2022 bigger and better than ever! This year will be the first year in Trinity's new business campus. www.adminovate.ie
So much has happened and there are many, many things to discuss!
As we've done previously, we've put together this post to give you a quick run through on what to expect on the day. Join us on the 13th of January and purchase your tickets, here.
What exactly is Adminovate?
Adminovate is a full-day forum bringing together innovative fintech start-ups, fund administration professionals and industry experts from the investment operations world to learn and share perspectives on the next wave of industry evolution.
You'll get to engage with over 300 like-minded souls from fintech start-ups, fund administration professionals, outsourcing firms, middle and back office experts, industry influencers and technology professionals, for a day of discovery and enlightenment on innovation and showcasing the best of what Ireland has to offer to the Investment Funds Industry.
Adminovate profits are donated to charity
All profits from the conference go to basis.point and TAP (Trinity Access Programme).
Our vision is for Adminovate to be the rising tide to lift all boats in the Funds Industry while giving a leg up to those in need.
Hosting the event in Trinity and with our focus on education and inspiration, it became obvious that the Trinity Access Programme (TAP) was a great fit to benefit from Adminovate.
basis.point is the Irish Fund Industry's initiative to come together to help make a difference to those in need. Established in 2013, the basis.point vision is to help make a sustainable and tangible difference to the lives of disadvantaged youths through educational programmes by supporting established Irish registered charities.
Where is it being held?
As Ireland's university on the world stage, Trinity is recognised for academic excellence and a transformative student experience. The historic campus is located in the heart of Dublin city centre at the meeting place of the retail and cultural districts. With a tradition of scholarship spanning more than four centuries, Trinity is home to talented and inquiring minds, a liberal education, and research conducted at the frontiers of disciplines.
Who is sponsoring the 2022 conference?
We are currently reaching out to past supporters and will update this year's sponsors as they come onboard.
If you would like to hear more about Sponsorship opportunities at Adminovate 2022 please email contact@adminovate.ie.
Agenda
So, what's the schedule looking like? We're working hard on the content for this year's conference. Below is a quick run through of what the day will look like, for the full agenda, please have a look at our agenda page.
Conference: 8.15am to 5.00pm
Networking with coffee: 8.15am to 9.00am
Morning networking with coffee: 10.55am to 11.15am
Lunch: 12.40pm to 2.00pm
Afternoon networking break: 3.40pm to 4.00pm
Drinks Reception: 5.00pm to 6.15pm
Quiz: 6.30pm to 8.00pm
Speakers
We're working on bringing some amazing speakers to Adminovate 2022.
We'll be updating the list of speakers here.
Tickets
Most importantly, where can you purchase tickets? Right here! Don't forget that ALL profits go to the two wonderful charities mentioned above.
We would love to see you at Adminovate on January 13th, 2022 so please reach out to us on Twitter or LinkedIn to let us know if you are going.